Despite tough circumstances, Palestinian startups have often managed to impress with their versatility, innovation, determination.
And while there are some notable success stories for Palestinian startups, this piece alphabetically lists 10 promising startups we've found that have just completed their prototype or emerged into the market, and are worth keeping an eye on.
1. Bareedee - delivery and logistics
Bareedee is a package delivery service that aims to save its customers time and effort with swift deliveries by using freelancers as couriers.

What it does: founder Shaher Husein started the idea as a package holding connection network, where people can order things and come later to claim them. This developed into a full delivery service via a smartphone app that allows anyone to become a delivery agent for the startup in return for a certain fee.

Reception and recognition: the startup has gained considerable traction since its launch in October 2016, where over 175 people showed interest in becoming Bareedee couriers. It then won first place at the Startup Weekend Amman Aramex Challenge and enrolled in Angelhack's 13 week Hackcelerator Program, which ended in November with a pitch in front of hundreds of investors in San Francisco.
2. Eat.ps - food
Eat.ps is an online platform that allows users to search for the best restaurants nearby.

What it does: the website allows Palestinian users to look up restaurants in their area using parameters that include, but are not limited to, location, price range and menu options. Eat.ps also gives the restaurant managers the option to manage, advertise and follow up on customer feedback.

Reception and recognition: founder Mohand Atwan and his team have collected a database for restaurants across the West Bank and Gaza Strip, and are preparing to launch their beta version in mid-April, while the official launch is expected during Ramadan, in June. The startup is supported by the Bethlehem Business Incubator (BBI).
3. Green Cake - construction materials
Green Cake is new kind of cinder block for use in construction that is environment friendly and affordable.

What it does: Green Cake blocks use ashes to replace traditional components in the Gaza strip, namely the sand filling. This makes these blocks lighter and more durable, while being environmentally friendly.

Reception and recognition: Green Cake started as a university project for Majd Al-Mashharawi and Rawan Abdul Latif, and has now reached the prototype stage. It was nominated for the tenth MIT Arab Startup Competition, and won the first place in the Japan Gaza Challenge in August 2016, allowing Majd to visit Japan to meet experts who can help them develop the concept further.
Green cake was supported and incubated by Mobaderoon 3.
4. Hakii - linguistic analysis
Hakii aims to collect and analyse Arabic content on social media to understand how Arab speakers are reacting to different topics or stories online.

What it does: the service provides sentiment analysis and localized analysis for different Arabic tongues, and provides some detailed results by surveying widely used social media platforms such as Facebook and Twitter, and providing information on emotions towards a certain topic, classification of conversations by topic or classification by dialect. It could be used to predict public opinion, such as predicting who will win a competition or election.

Reception and recognition: the startup is bootstrapped by its founders, Ahmad Barbar, Ali Saleh, Ghaleb Salah, and Hassan Jaddeh, and the team has participated in some regional competitions. The service itself has received attention from Palestinian Telecom companies Jawwal, Paltel & Wataniya, and the Bank of Palestine.
Hakii is supported by Jerusalem Entrepreneurs Society & Technology and is still in beta version. It's expected to launch soon.
5. Al-Masna' - clothing manufacturers
Al-Masna', means 'The Factory' in Arabic and is a virtual provider of customized, and seasonal garments for men and women.

What it does: Hamza Ahmed and his team found that young people in Gaza buy seasonal clothes often, but many fail to find the quality they want. They launched Al-masna' to make high quality garments with modern and authentic Palestinian designs. That they sell online and deliver to customers directly.

Reception and recognition: the startup has already sold dozens of winter clothes across Gaza city, and the team is currently preparing for a new summer collection. The Facebook page for Al-masna' has over 5,000 followers and an overall five star feedback rating from customers.
Al-masna' won and is supported by the Taawon Youth Award of 2015.
6. Mayazeen - Arabic poetry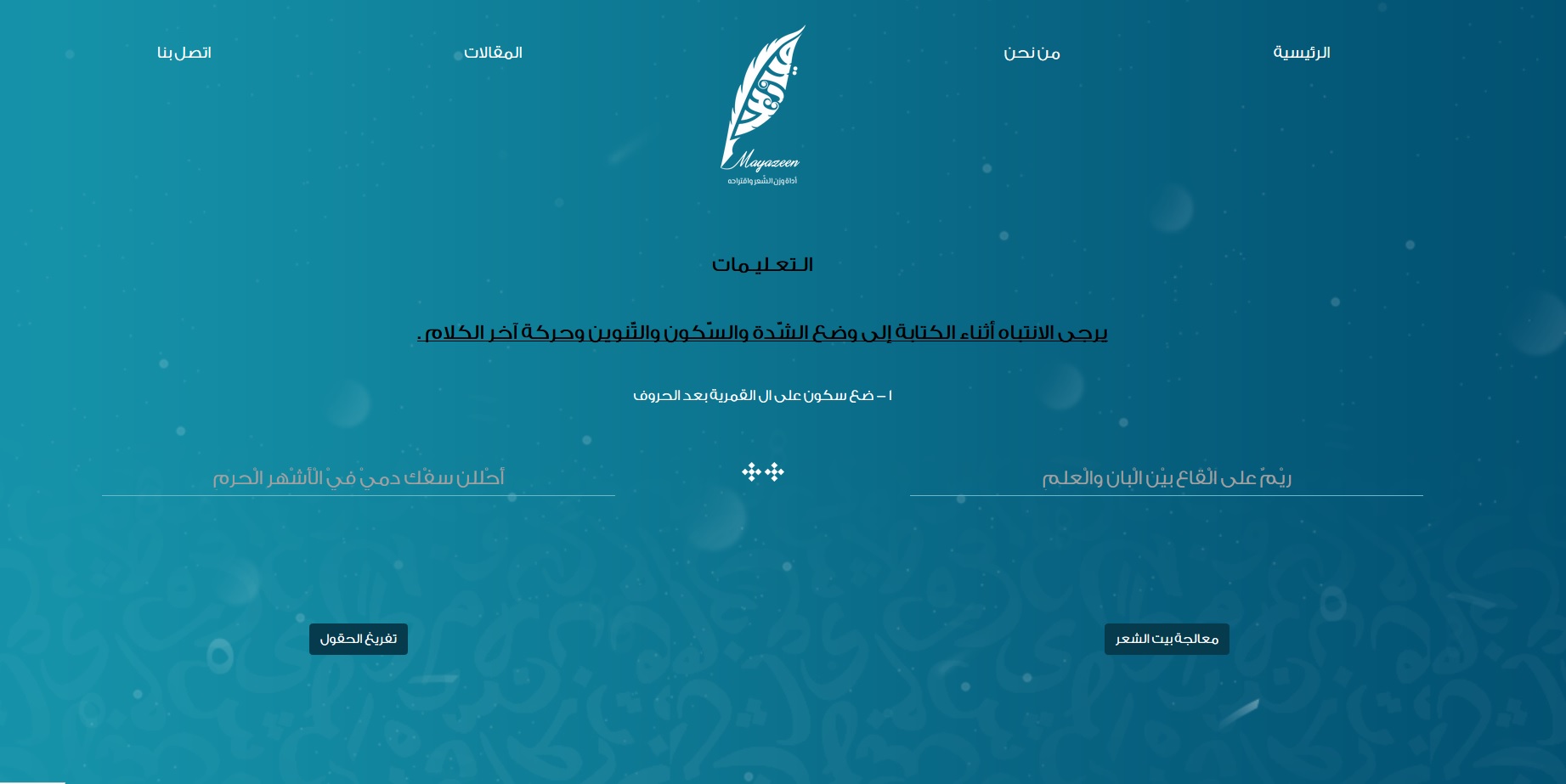 For individuals interested in Arabic poetry and aiming to writing balanced poetry verses, Mayazeen.com is the place to go.

What it does: Wafa Abed Rabbu had a keen interest in Arabic poetry and found that many people did so too, but not all were able to write and practice. She came up with Mayazeen, a website with an underlying linguistic system that analyses poetry verses and offers suggestions so the poetry is correct according to Arabic Prosody.

Technically, a user inserts poetry verses into the site, and the online system checks that it has the right poetic elements, as well as comparing the verses across 16 different poetic patterns. This means that anyone wishing to write balanced and correct poetry could do so with the site, without having to learn the underlying details of this vast and historically significant field.
Reception and recognition: Since its launch in late 2016, the website has attracted about 340 users, over 14,000 visits with over 70 percent return rate, poetry verses tested are over 2,000 -half of which are devised by users themselves.
Mayazeen was supported and incubated by Mobaderoon 3.
7. Mommy Helper - content and psychological support
Mommy Helper is a smartphone app to link mothers with professionals in order to provide psychological support and advice.

What it does: the app offers content, community, and online sessions for mothers suffering from anxiety and depression. When a woman starts using this service, she can select advice in one of three areas: medical, behavioural and psychological support. Experts can be other mothers who have undergone similar circumstances, and for medical advice there are professionals to connect to.
The app capitalizes on the emotional side by encouraging women to help each other, while a subscription system generates revenue.
Reception and recognition: CEO Nour Elkhoudary and her other five team members received over 20 consultation requests from Europe and MENA and already have a dozen paying customers on the app. The website has an average of 1,500 returning visits and 925 new visits a month. Mommy Helper is incubated at Gaza Sky Geeks (GSG).
8. Tashbeak - networking and mentorship
Tashbeak is an online platform that connects innovative businesses in MENA with freelance consultants for guidance and advice.

What it does: the platform provides a step-by-step process for users who wish to talk to experts from around the world. Once a user registers, he or she searches for the expert on the site's database and schedules a call. Once the two are connected the user is charged by the hour.

The website is open for anyone who wants to use it, but the startup is targeting the UAE market at this stage and aims to hit a number of 100 mentors available on the website.
Reception and recognition: CEO Nuwar Abu Awwad and her team understand there is tough competition internationally from companies such as Clarity.fm, but believe that localization is their advantage. The startup is fairly new, but has over 960 users and has held over 16 sessions until February.
Tashbeak is still in beta and is incubated at GSG.
9. Volunteer Pal - volunteerism
If you have ever thought to volunteer in Palestine then this one is for you. Volunteer Pal aims to facilitate and help volunteer trips to Palestine from around the world.

What it does: Volunteer Pal is a platform designed to connect international volunteers with local communities in Bethlehem and Hebron. Individuals who wish to volunteer in arts, agriculture, medicine, music, or teaching can register with this startup to get a diverse cultural experience of events, visits, entertainment and cuisines besides their volunteer work.

They want volunteers to bring their skills and expertise to their communities, with a willingness to learn from the Palestinian people and share their stories back home.

Reception and recognition: Volunteer Pal is still in beta and developing its service, but the startup did facilitate some visits from international volunteers to various locations in Palestine.
The startup is supported by BBI and plans to launch soon.
10. UB Connect - business services
A contact management platform, UB Connect aims to digitize business cards and turn them into immediately accessible and usable data available to business marketing and CRM systems.

What it does: UB Connect has two main components: a smartphone app that captures business cards and transform them into a digital card, and a database able to integrated with CRM systems such as Salesforce to facilitate business transactions for small and big companies.

Reception and recognition: the startup team Hafeth Zughayer and Falastin Al Julani got the second place in Intel's Challenge ME IoT competition in Beirut in late 2015. It was also a finalist in a number of other competitions including MassChallenge 2016 and Seedstars Amman 2014.
The team has passed the seed funding stage and will launch in full after April. The startup is supported by Jest.
Images via the startups, feature image via Mommy Helper
Original article was published on Wamda on April.16th, 2017